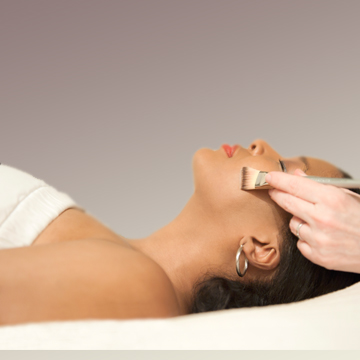 NATURAL WOMAN
Perfect for all skin types, this facial features all the essentials of a classic...steam, cleanse, exfoliation, massage and mask. You'll feel so inspired when you make it your own with any of our beauty enhancing upgrades.
60 minutes $90 (Refreshing) (Aretha Franklin-1967)
TURN BACK TIME
Reach the stars with this time reversing treatment that includes a pore refining microderm session, firming technology, a powerful peel to brighten and even skin tone and a moisture rich anti-aging serum pushed deep into the skin by soothing ultrasonic waves.
90 minutes $150 (Anti-Aging) (Cher-1989)
RESCUE ME
Break up with your bad skin with this blemish blasting facial that starts with an extended steam, oil absorbing cleanse and a mini-microderm followed by extractions, bacteria killing light therapy and a massage. Top this off with a pore refining clay mask and you'll be saying "acne who?"
90 minutes $130 (Acne Healing) (Fontella Bass-1966)
BORN THIS WAY
You'll go 'gaga' over this Repechage Four Layer Facial. In addition to the steps of a traditional facial, warming clay will unlock the power of a mineral rich detoxifying mask, made from organic seaweed, harvested off France's Brittany Coast.
90 minutes $135 (Rehydrating, Balancing) (Lady Gaga-2011)
MATERIAL GIRL
Endorsed by the "Material Girl" herself, this over the top, EMK Beverly Hills facial pulls out all the stops, making it the ultimate in decadence. Aurora Cleanser, mini-microderm, extractions, soothing Rescue Serum (Madonna's favorite), extended massage, collagen boosting Alpha Mask followed by a moisture rich hyaluronic mist and topped off with a vegan stem cell white caviar wrinkle filler and skin illuminator. What more could you want? A paraffin hand dip? Okay...we'll do that too!
120 minutes $200 (The Whole Shebang) (Madonna-1984)
MAN IN THE MIRROR
All the basics and then some, this invigorating facial treatment focuses on what a man's skin needs...deep cleansing and exfoliation. A relaxing massage with essential oil infused hot towels will make you feel like a new man. Go ahead. Make that change.
60 minutes $90 (Deep Cleansing-Refreshing) (Michael Jackson-1987)
SEXYBACK
It's not easy to deal with problem skin on your back. We can make it easier with a treatment that targets your hard to reach back breakouts with deep cleansing, exfoliation, extractions, an oil absorbing mask and of course, a relaxing massage. Great for men and women!
60 minutes $95 (Back Treatment) 90 minutes-with microderm $130 (Justin Timberlake-2006)
Please note:
All facial times are approximate and include a complimentary skin analysis. Your aesthetician can customize any facial to suit your skin-care needs.